ELM Environment and Planning was set up in 2008 and built on the established practice of Eiluned Morgan a planner. A new director, David Collins, brought to the practice his ecology skills and extensive experience in developing strategic policy development and wildlife law, especially the Habitat Regulations. The company ceased operation late in 2013.
David is now employed full-time on a major infrastructure project.
Eiluned retains her interest in planning and more particularly the relationship between people and the places they need.
David Collins or Eiluned Morgan
Address: Houbara House,
32 Hillside Meadow,
Fordham,
Ely, Cambridgeshire CB7 5PJ
Telephone: 01638 721207
Mobile: David 07946 140192 and Eiluned 0777 676 5995 Please note that mobiles not always available.
E-mail: eiluned.morgan@elmtwo.com or david.collins@elmtwo.com
A Walk Through Fuerteventura
David Collins has published "A Walk Through Fuerteventura" which is available from the author for £14.99 at http://www.houbarahouse.com/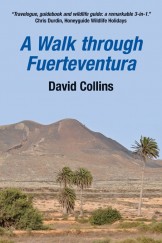 Reviews:
"Travelogue, guidebook and wildlife guide: a remarkable 3-in-1. A privileged few have had David Collins as their guide on Fuerteventura: his knowledge and passion are captured here for anyone who wants to know more about this unusual desert island."
Chris Durdin, Honeyguide Wildlife Holidays.
"This book is filled with interesting anecdotes and information revealing the true spirit of Fuerteventura and its flora and fauna."
Rod Casey, Villaverde, Fuerteventura
Fuerteventura is well known to tourists for its beaches and its windsurfing. But there is much more to it than this. This book is a passionate and authoritative account written by someone who really knows the island. It describes a walk over the mountains and remote desert landscapes of the island, referring in particular to wildlife and places of historic interest, but also including personal anecdotes from visits over more than thirty years. The book provides an enthusiastic account of the island, its wildlife and history as seen through the eyes
of its most passionate exponent.